RADIOMETRIC
INSTRUMENTATION
MICROWAVE TECHNOLOGY & NUCLEONIC SYSTEM
MICROWAVE MOISTURE MEASUREMENT
Microwaves penetrate the bulk material, causing a rotation of the free water molecules. As a result the velocity of the microwaves is reduced (phase shift) and their intensity is weakened (attenuation). Both effects are measured and used to calculate moisture content.
These measuring effects are achieved with very small microwave transmission power – typically 0.1 mW. Consequently the measured material is neither warmed nor modified. Factors such as colour, viscosity, composition homogeneity, and dust have no or only a negligible effect on the measurement performance.
RADIOMETRIC MOISTURE MEASUREMENT
Fast neutrons are slowed down impacts with hydrogen nuclei, but are barely affected by other elements.
This measurement system comprises a source, emitting a cloud of fast neutrons. After their interaction with the water molecules within the measured material, the attenuated neutrons are measured by a detector that is only sensitive to slow neutrons. As the number of slow neutrons corresponds to the hydrogen content, radiometric neutron technology provides an extremely reliable measurement of product moisture or hydrogen content.
It is not affected by temperature, pressure, conductivity, or varying particle sizes, and even frozen water can be measured reliably.
DENSITY MEASUREMENT
The radiometric measurement principle utilizes the usage of a radioactive source and a detector to detect the level inside a vessel. Specifically for our technology, we are using gamma ray radioactive source, namely either Cobalt-60 (Co-60), or Cesium-137 (Cs-137).
As gamma rays pass through the pipe containing the product, the gamma rays will be attenuated according to the product's density.  As the level of the density increases, highernumber of gamma rays will be attenuated leading to lower number of gamma rays received at the detector. Vice versa, as the density decreases, higher number of gamma rays are received at the detector. This mechanism is then being translated into the system as the density of the product that passes through the pipe.  
Radiometric measurement is usually adopted if other means of measurement fail as it is non-intrusive, able to withstand extreme process conditions (high pressure, high temperature etc.) and have higher reading resolution. 
MULTIPHASE MEASUREMENT
For the measurement of three or more different product layers or where no clear interface is formed and therefore emulsion layers have to be monitored, our multiphase level measurement EmulsionSENS is used. It creates a density profile of the vessel contents, and, depending on the measuring arrangement, determines the position of the individual phases.
Several density measurements are installed at different heights to monitor the process very precisely. The result: residence time and demulsifying agent addition can be optimized.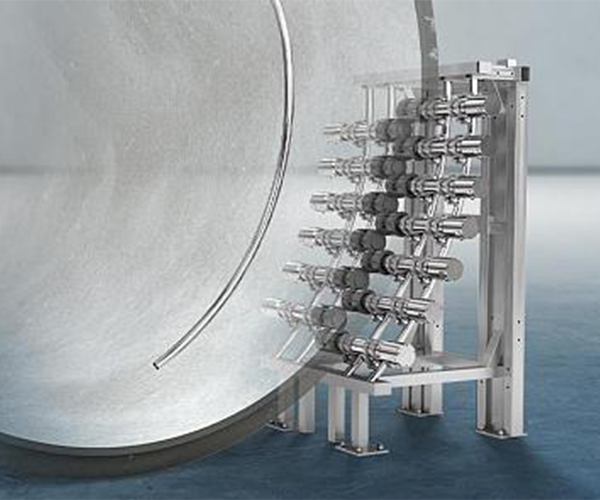 SOURCE & SHIELD
Radiometric measurement systems require a radioactive source which emits gamma radiation. The radioactive material is safely held in a sealed and durable capsule, which guarantees safe handling - even under extreme measurement conditions. 
Our registered cast iron, steel, and stainless steel shields are filled with lead, tungsten, or both, offering the best shielding effect for every situation. Each shield is closeable, and is shipped locked shut until the device is put into operation.